Industrial chic with feminine charm: 2 stylish loft interiors from Paris.
As you know, there is a lot in common between the industrial style and loft interiors. But the first usually refers to the type of space in which the housing is created, its main structures and elements of decoration. The second one is more likely about furniture and decor – concise, brutal things, evoking associations with furniture factories.
In some countries people may look at it differently, but in France they consider it so. Moreover, there are a lot of lovers of industrial style in interior, especially in the capital. And therefoe leading suppliers of furniture create nice collections in industrial-style, where they use dark metal with a touch of time and syled wooden planks, burlap and technical lighting.
One more curious feature of the French industrial direction in interior design – active interest in it among women. While in other countries (USA, Canada, Europe), it is more popular among men. Of course, the female version of industrial interior is more elegant, cozy and not devoid of true French charm. A common element is a palette of colors – gray, grey-brown, black, gray-blue, mustard yellow, red – from which everyone chooses what they like more.
Parisian loft interior in a small apartment:
This room immediately plays three roles: living room, kitchen and library. The owner of the apartment wanted to preserve not only the functionality but also space. She wanted to "open the doors to all three dimensions," and the designers of this loft interior succeeded.
In this interior you will notice only small light touch of industrial style, but this is actually enough for such a small apartment.
Living room looks of this loft apartment looks large and bright – thanks to huge windows and white walls. Such a combination would produce a sensation of cold and emptiness, if not the details. Room is warmed by knitted rug and bright accents, made with poof, pillows and a lampshade.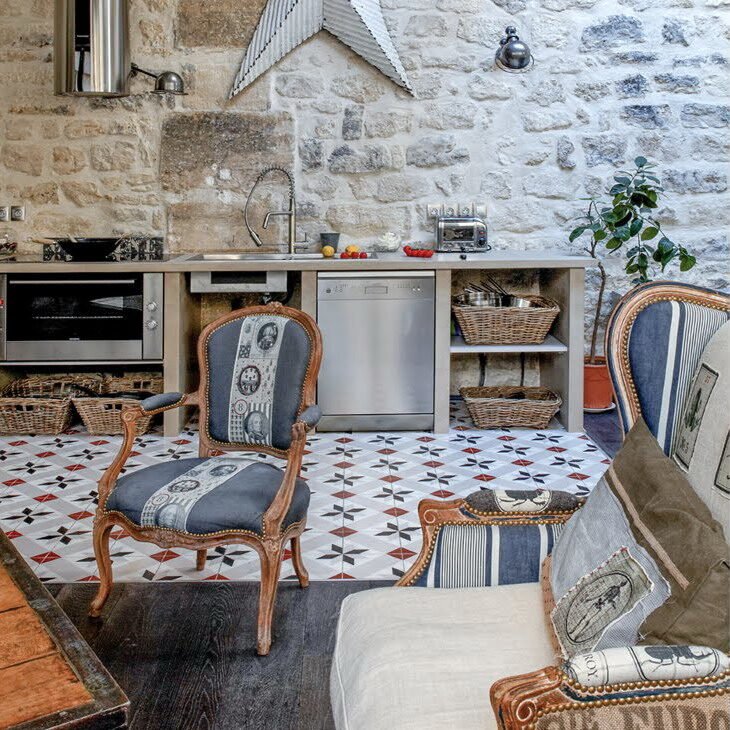 Parisian loft – the combinftion of industrial and antiquities in interior design:
Having bought a small building, which had three offices to rent, the owner of this apartment combined them into a really family home. Her flat is really interesting, while it shows a rather different face of industrial interior style. The size of her apartemnt gave her the possibility to make it on a really grand scale. She combined industrial and antique – two really incompatible from a first glance interior styles.
But we will see that nowadays anything can happen. And if you have good taste, combining anything is possible.
More Inspiring interior design and decor ideas